~ This Event Costs Nothing To Attend ~
The Reason This Event Is Happening Is Simple:
I Get An "Entrepreneurial Twinge" Up My Spine At This Time
Of Year & Want To Help The Do-Goodership Efforts In The World.
I Enjoy Doing Thoughtful Things… But, VERY, VERY Differently Than Most!
So, Like Any Successful Person Who Creates An Ever-Expanding "Ripple Effect"
Which Betters The World, I Think You, Your Family & Friends Are Going To Love
This Years Festivities — I Got MUCH MORE Resourceful This Year With My Team!
As I Look Back On Last Year's Event, I'm SO Excited That My 1st Ever Charity
Event Raised Over $450 — We Sent The Kids Of Sandy Hook, CT A Little Thought.
This Year, The Charity Of Choice Will Be Named Later.
However, I've Decided I Will Donate On Marathon Monday.
As For My Intention Of This Event… I'd Say This Can Sum It Up:
I Wanted To Gather As Many People I Care About To Have Fun,
Make Friends, Enjoy Fellowship & Celebrate "Boston Strong" Bigtime!
(RSVP By Commenting On The FB Thread At The Bottom Of This Page)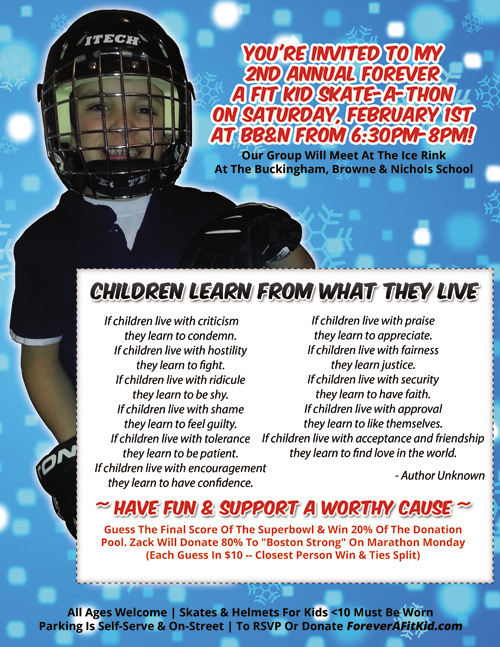 Light Refreshments Will Be Served
BYOS (Bring Your Own Skates + Helmets Too For Kids Under 10)
Parking Is 1st-Come-1st-Serve (BB&N Has A Game Before – Allow Time)
You Don't Have To Skate To Have An Absolute Blast
If You Don't Know — The Buckingham, Browne & Nichols School
Is Located At 80 Gerry's Landing Road In Cambridge, MA – Fresh Pond Parkway
(Go To The End Of Rt 2 – BB&N Is Directly Across From The Mt. Auburn Hospital)
Can't Make The Event But Want To Guess For The Pool (Winner Gets 20%),